Old Books and Catalogs on CD
Unique items we offer for sale. All are in stock and ready to mail.
Circa 1910 Logging and Sawmill book
This book was written around 1910 by C. A. Schenck, Director of North America's first logging school. Titled LOGGING AND LUMBERING, today we would more likely call it LOGGING AND SAWMILLING. And that is what this book is all about--logging and sawmilling in 1910.
This book contains 195 full size pages. 8 1/2 by 11 inches. Lavishly illustrated with over 250 photographs of all kinds of logging and sawmill equipment. Lots of attention is given to the latest logging equipment and methods. Not only locomotives but log loading equipment and hoists are covered.
In the sawmill section, again the very latest in sawmill equipment is covered. How it is set up and how it is operated.
For the model builder, the hundreds of great photos and drawings will help you with your models and your logging scenes. Not only are sawmills covered here but also shingle mills and barrel factories and their equipment are covered.
In all my years of researching logging and sawmills, this is the only copy of this beautiful book I have ever seen. It is in perfect condition. All 195 pages have been scanned at 300 dpi, trimmed, and digitally enhanced for the best quality production.
The CD will work in all computers. You can simply scroll through the pages---or you can print out the pages you want hard copies of. Or you can print out the entire book and have it spiral bound at Kinkos for a few dollars.
Price is fifteen dollars with FREE SHIPPING to anywhere in the US
Shipping to all other countries is at the cost of postage.
Personal check or Paypal is fine. My Paypal ID is my email address: darrylhuffman@yahoo.com
My mailing address is:
Darryl Huffman
451 N Evelyn Way
Star, ID 83669
If you have any questions please email me at: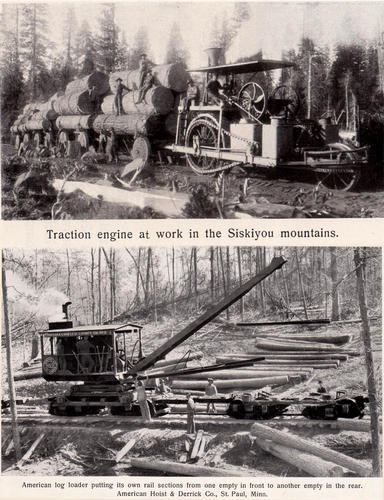 Small Sawmill Operators Manual
Back in the early 1970s when I first became interested in building models of
sawmills, my local library had a great book about small sawmills. It
described the equipment used in small sawmills, how those pieces of
equipment worked together, even complete layouts of typical small sawmills.
All of this was accompanied by excellent drawings and B&W photos, including
a great photo of a truck modified to have a fork lift mechanism on the front
for moving lumber.

Well, some "back to the land Alaskan" decided he needed that book enough to
steal it. And I have been looking for another copy for decades. But now I
have found an excellent copy and can now share that book by putting all the
information on a CD.

You can read the book on your computer, print out just the pages you need,
or you can print out the whole thing.

The book was originally published by the Department of Agriculture just
after World War II to help encourage the development of new sawmills to help
with the recovery from the war. The title of the book is Small Sawmill Operator's Manual and was written for the Department of Agriculture by C. J. Telford, Small Sawmill Specialist with the Forest Service. The original 120 page, 8 1/2 by 11 inch book was printed in 1952.

The book deals with the types and variations of equipment, installation of
equipment, and operational techniques, especially for the circular head-saw
type. And it includes an excellent glossary.

I am pleased to be able to share this book on CD with you for fifteen dollars with FREE SHIPPING to anywhere in the US
I accept Paypal and personal checks.

Of course, absolute satisfaction is guaranteed or your money will be
promptly refunded. After scanning the pages, I found that I could blow the
drawings up by 300 per cent without any loss of detail.

It's a great book and I found it to be very helpful. Just right for anyone
interested in building a small sawmill for their layout. Again,
satisfaction guaranteed.
267 Pages Of Rare Logging History on One CD
On this CD, we have 3 collections.
First is the complete 1921 Ottawa Wood Sawing Encyclopedia. This 36 page handbook is for the set up and operation of their dragsaw and two other power saw machines. Great information on drag saws and how the were used.
Second is the complete 1908 American Sawmill Machinery catalog. 124 pages of great photos, drawings, and information on all kinds of sawmill equipment, including shingle cutting machinery.
Third is just over 100 pages from the very rare Flory Manufacturing catalog from 1904. Note: this is not a complete catalog, but rather 100 pages from the original showing logging and aerial cableways equipment. These pages show lots of great products and photos of the equipment in use. Logging machinery and aerial cableways are included. The aerial cable information includes great, detailed photos of the products themselves, plus many photos of the equipment being used in loading log cars, building bridges, and in quarry operations.
There are a lot of great ideas for model building on this CD as well as a look into the history of logging and sawmill operations of the late 1800s and early 1900s.
Price is fifteen dollars with FREE SHIPPING to anywhere in the US
Shipping to all other countries is at the cost of postage.
1915 Road Construction Equipment Catalogs
On this one CD we have 3 selections.
The first part is the 1915 road construction equipment catalog from Austin Brothers Manufacturing. This 280 page catalog contains about 200 photos of all kinds of interesting equipment. Austin Brothers were a major bridge builder and supplier of road construction equipment.
Contents include: Earth Moving Equipment, Rock Crushers, Steam Rollers, Portable Steel Cages for moving Chain Gangs, Concrete Mixers, Storage Tanks, Railway Bridges, Pile Driving Equipment, and lots of other great stuff.
The second part of the CD is the catalog of equipment manufactured and sold by New England Road Machinery Company of South Boston, Massachusetts. Approximate date is 1914. Featured are crushers, elevators, conveyors, washing plants, drag lines, loaders, road scrapers and other equipment. Great photos. 44 pages long. You will find several great scenes to model here.
The third portion is a collection of photos from Highway Engineering by Arthure Blacnchard, published by John Wiley and Sons in 1914. The original book was almost 800 pages in length with lots of engineering data and formulas. So I went through and scanned 58 great photos of road building equipment in operation.
All three on this one CD. 380 pages of great modeling ideas.
Price is fifteen dollars with FREE SHIPPING to anywhere in the US.
Shipping to all other countries is at the cost of postage.
I accept personal checks and Paypal.
Darryl Huffman
451 N Evelyn Way
Star, ID 83669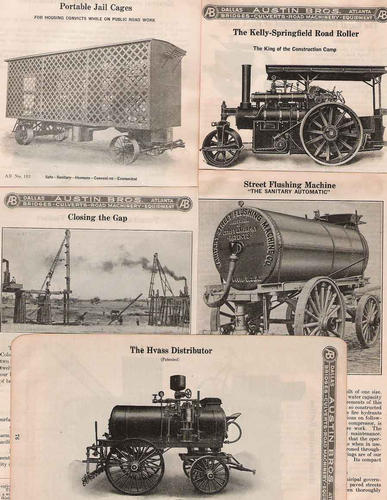 Sand, Gravel, Minerals and Concrete Collection
This CD is filled with hundreds of great photos and drawings of equipment and common industries served by the railroad 100 years ago. Some of these industries were for the concrete business. But any business which needed bulk materials such as sand, gravel, ore, and other products from quarries would need to store and process the raw materials. That is what this CD is all about.
Today we see cement trucks carrying concrete to construction sites. But that was not always how it was done. One hundred years ago temporary structures were built close to the actual construction site. These plants processed the sand, gravel and cement into concrete. But before this could be done, the sand, gravel and cement had to be dug from the ground at quarry sites. Facilities for the bulk storage of these minerals were a steady producer of business for the railroads. And, of course, the railroads themselves needed sand for locomotives and gravel for ballast.
You would find these temporary plants near any large construction site. Whether building a dam or the foundation for a large building, these plants were everywhere.
This CD includes material which will help you build accurate models of all these industries, both large and small.
The first book, Quarry Plant Design, shows the equipment used at quarries for conveying, storing, and transferring the bulk materials. 123 pages. Some in color. You will find a photo of the plant and then a drawing to help you see how the pieces work together. The actual operations at a quarry are explained as well.
Next is 108 pages taken from the 1916 Stephens-Adamson catalog of equipment for processing aggregates.
Third we have 32 pages from the 1918 Concrete Engineers' Handbook which describes and shows what is needed to quarry and prepare aggregates for making concrete.
Then we have 19 pages of concrete mixing equipment and methods from a 1908 publication from the International Library of Technology.
Last, but not least, we have 13 pages of great photos and descriptions of concrete mixing equipment manufactured by Chain Belt. This is from their 1909 catalog.
All told we have 295 pages of great historical information, photos and drawings.
Price is fifteen dollars plus five dollars for shipping to anywhere in the US or Canada.
Price is fifteen dollars with FREE SHIPPING to anywhere in the US.
Shipping to all other countries is at the cost of postage.
Darryl Huffman
451 N Evelyn Way
Star, ID 83669